How To Play Texas Holdem
Texas Holdem is one of the most popular poker games and it can be played in land based poker rooms and in online poker rooms. If you have been considering playing the game then you want to use this guide to learn the basics. Once you get this game down you will be in for much excitement and have many chances to win real money playing Texas Holdem online.
Where To Play Texas Holdem Online
Texas Holdem Rules
The game begins with the two players who are seated at the left side of the dealer placing blinds. The first will put out the small and the next will put out the large blind. The cards will then be dealt.
First, players will receive two cards each which are facing downward and these will be the player's hole cards. After the players have looked at their cards the player who is situated at the left hand side of the player who put out the big blind will call, bet, or fold their hand.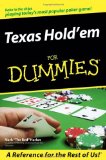 After all of the players have had a chance to bet the dealer will then deal out the flop. The flop consists of a card being burned and then three cards being placed facing upwards in the middle of the poker table. All of the players will use these cards as they are the community cards. Another betting round will ensue after players have had a chance to consider these cards.
Once this round comes to an end there will be another card added to those community cards in the center of the table and this is the turn card. Now, there are four cards on the table for the players to use. More betting takes place, followed by the last of the community cards being dealt and this single card is referred to as the river card.
After the dealing of the river there will be one last betting round in which the players will bet on who has the best five card hand out of the seven. The players will be able to use their two cards and all the community cards to make the best hand they possibly can.
Strategy is a large part of the game and it is also the area where you need to put a lot of focus into. Also, this is a game where becoming good at bluffing can really help you out. Experience goes a long way in Texas Holdem and this is why it is a good idea for you to make use of as many of the free poker training videos as you can. There are many of them offered online.