How to Play Seven Card Stud Hi
Seven card stud is one of the most well-liked poker games played in most casinos, tournaments and at many home games. There a many variants, but for terms of this article, we will focus on the high hand only version. This game is played with a 52 card deck and can be played with up to eight players.
Where To Play Seven Card Stud Hi Online
However, it is better played with seven players, as if all players stay in the game, there will not be enough cards. It is usually played with a set limit or pot limit since there are many betting rounds. The object of Seven Card Stud is to take the pot with the highest five cards out of the seven cards dealt to a player.
Seven Card Stud Hi Rules
The game starts with all players placing their ante. The dealer will deal each player two cards which are placed face down (or hole cards) and one card facing upwards. In casinos, the player with the lowest card that is facing upwards (Ace is high in this setting) will start the betting.
Starting with the player sitting at the left side of the bet, all players will each have a turn to call the bet, raise, or fold their cards. It should be noted, that many players have been taught that the highest ranking card will start the bet, and many at home games are played in this manner, but at most casinos, the lowest ranking hand will start the bet on the first card only.
The dealer again, will deal one card face up to all players still in the game and betting resumes with the player with the highest card hand showing on the table. At this point, a player can either check their cards (this is not folding or betting, but waiting to see what other players are going to do) bet their hand, raise the bet or fold their hand.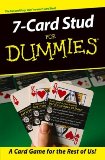 This procedure will continue with the next two cards face up. The betting continues with the highest card hand. The final card will be dealt face down and a player will have four cards facing upwards and three cards face down. The betting continues with the highest card hand showing and any player still in the game can win the pot. The winner will be the player with the highest ranking five card hand.
This article was written so that even beginning players can understand how the game of seven card stud is played. While this game is simple to learn and a lot of fun to play, if you want to be a frequent winner at the game, you will find that having a good memory for what cards have been played and what cards are still out that might make your hand, will benefit you greatly.