Club World Group's First 3D Slot Machine: Orc vs Elf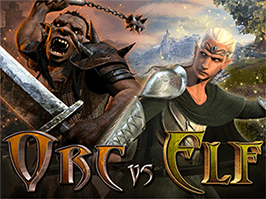 Club World Casino and fellow sites like Lucky Red Casino released their first 3D online slot machine today. The new slot machine is called Orc vs Elf. The game takes you on a battle between light and dark. It allows you to choose a side and journey through 14 astounding features. You will challenge your mortal enemy, win, and earn extra features and bonus prizes.
What Type Of Slot Machine Is It?
This is a 25 line, 5 reel online slot machine. You play Orc vs Elf now by signing up to Club World Casino or you can look at the videos below to see how the slot game plays.
Orc vs Elf Slot Machine: Orc Feature
Orc vs Elf Slot Machine: Elf Feature