Win $25 Bonus Playing Slotland's New Treasure Island Slot Machine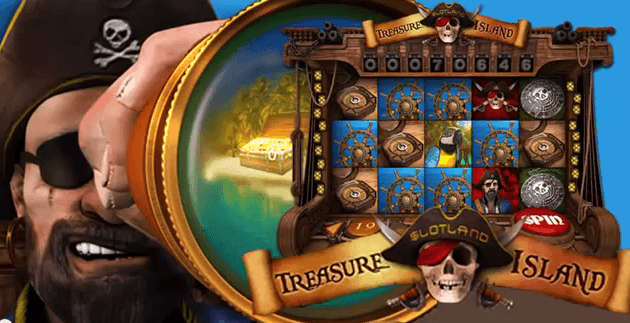 Slotland has just release a new slot machine called "Treasure Island" with a pirate theme. This online slots game is even better with a specially enhanced version for iPhones. Slotland is giving away a $25 bonus to 20 players of the new Treasure Island slots everyday between December 23rd to 29th, 2013. Which totals $3,500 and it gets even better, the new slot machine Treasure Island is tied to Slotland casino wide progressive jackpot! Receive five "Corsair" pirate symbols on Treasure Island with a minimum $20 bet wins the jackpot, which is currently over $70,000! After a slots player won $182,782 playing Ice Queen earlier this month.
Treasure Island is a 5 reel, 19 pay line game. Slots players can bet anywhere from $0.10 to $4 per line. Treasure Island features the following head hunters, casks of rum, parrots, compasses, Jolly Rogers and anchors spinning on its five reels. Double winnings of any winning combination featured is triggered with an animated Double Wild symbol.
"Shiver me timbers!" laughed Slotland's manager, Michael Hilary. "Our designers have really come up with a great bonus game this time that will really extend players' playing time and add to their winnings. Fair winds, matey!"

Three scatter symbols (a treasure map in a bottle) triggers the Treasure Hunt Bonus Round sending players on a perilous journey in high seas and unchartered territory on the ultimate treasure hunt. After looking at a map of the island, they must first decide where to anchor their ship and then select a satchel containing a random selection of items that may come in handy when dealing with the natives. The goal is to explore the Island and to find as many treasures as possible while avoiding dangerous wild animals and exchanging items with natives.

Slotland now has 33 one-of-a-kind, instant-play slot games. Fourteen mobile slots, including the new Treasure Island, are available in a special format for iPhone and Android phones but all 33 games can be played in any browser on any computer, laptop, tablet or smart phone. None of them require downloading or installation, and none of them can be found anywhere but Slotland.