Houston Texans vs Indianapolis Colts Week 17 2012
In the last week of the 2012 NFL regular season Houston Texans head to Indianapolis to face the Indianapolis Colts in week 17. This is a must win game for the Texas in order for them to hang onto the number one seed in the AFC.
If they lose this game against the Colts and both the Denver Broncos and the New England Patriots win their week 17 games. Houston Texas could drop down to the 3rd seed in the AFC Conference and lose home-field advantage.
However, if the Houston Texans win their game against the Indianapolis Colts. Denver Broncos and New England Patriots lose their games then the Texans will clinch the number one seed in the AFC Conference.
Quick Summary: The pick for this match up is Houston Texans at BetOnline.
NFL Team Match Up Stats and Key Football Players
Houston Texans (12-3) is coming off a lost in week 16 vs Minnesota Vikings. With the added pressure maintaining the #1 seed in the AFC. This is a high pressure week 17 game. In week 15 vs the Indianapolis Colts defensive end J.J. Watt had 10 tackles, 3 of which were sacks.
For Houston to take control of this game early J.J. Watt will have to have an explosive game like he did in week 15 and Matt Schaub will have to lead the offense into some early touchdowns by connecting with Andre Johnson, Owen Daniels, and find openings in the Colts defense for Arian Foster to quickly bring the offense up the field with easy first downs.
Indianapolis Colts (10-5) won their week 16 game against Kansas City Chiefs. Colts entering this game with a win and hope to enter the 2012 NFL playoffs with a 2 win steak. The week 15 lost to the Texas was due to the passing game being shut down. The Indianapolis Colts can't rely on Vick Ballard to rush the ball all game and expect to win.
Andrew Luck will have to connect with his receivers T.Y.Hilton, Donnie Avery, and Reggie Wayne as well as his tight-ends Dwayne Allen and Coby Fleener. Each of these guys will need to step up their game and make sure they get some extra yards with every catch. If the Colts offense can get it together early in the game then they will surely have a fighting chance against the Houston Texans.
Game Betting Odds And Spread
Houston Texans: -7 (+105)
Indianapolis Colts: +7 (+125)
Where To Bet Online For The Texans vs Colts Game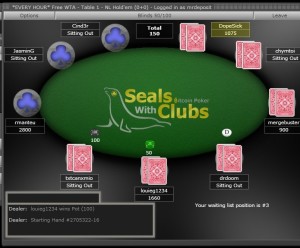 SwC Poker
฿ 50% RB Bonus
Anonymous Account - Email Optional
No Download - Flash Browser Play
Only Bitcoin Deposits and Withdraws
Game Prediction
Houston Texans is entering this game as if its a playoff game. There is nothing keeping them from winning this game as long as they shut down the Colts passing game. The Indianapolis Colts is coming off a win so they might not take this game as serious as the Texans will result in a lost by how much is any ones guess. My game prediction is Houston Texas will win this game 27-22.
My Prediction: Houston Texans 27-22
---
Game Final Score
Houston Texans: 16
Indianapolis Colts: 28