WinADay Casino Adds Five More Penny Slots Machines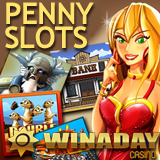 Back on March 25th we reported Win A Day Casino Penny Slots was now available. The penny slots are so popular that Win A Day Casino has added five more penny slot machines to the their online casino. These new online penny slots added to the collection are called: Vikings, Wild West, Beauty Salon, Monster Trucks, and Safari Park.
Just like last month when the first five penny slot machines (Aztec Adventure, City Girls, Deep Blue, Sam's Burger and Touch Down) were launched. The maximum bet on these penny slots per spin is $0.02 which gives the players a lot more fun playing their favorite slot machines longer.
"We knew these would be popular, but these games have just been burning up the servers!" laughed WinADay Casino manager Michael Hilary. "We'll be launching another premium game in the next few weeks as well. I can't tell you any secrets about that now but the first hints will be on the Facebook page, as usual."